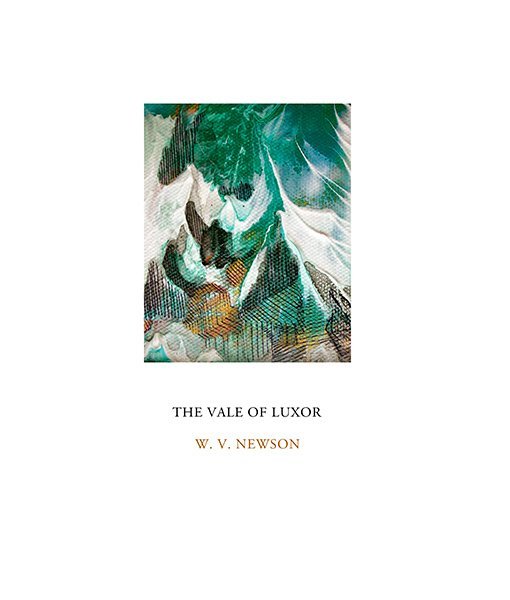 The Vale in Luxor by W. V. Newson
Introduction to "The Vale of Luxor":
Life is full of surprises!
I thought I knew Mr. W. V. Newson, the dignified Deputy Treasurer of our Province, to whom we went when we had saved money enough to buy a bond. He has been one of the institutions of our Province, a solid rock of security—accessible, courteous, well-informed. But now we find that we did not know him at all even those of us who went in and out of the same building, and saw him often. When we looked at that clear-cut, thoughtful face, we believed he was pondering on dull grey things like maturing bonds, Savings Certificates, and such—but now we know he was looking clear through these, down into the Vale of Luxor,
"Where gathered once the dynasties of old
Their precious baubles, beryl, chrysoprase,
Bronze fibulae—an alabaster vase."
A poet has walked with us, and we did not know it!
The most poignant poem in the collection, in my opinion, is the opening one, "To lily Mother," in which the poet sets apart a little room of memory in his heart for his mother, where he can always come and visit her.
"There immortal you will be
Unperceived by all but me."
Best of all, I like the poem entitled "The Workers," in which the life of the bee is told in fragrant words that lilt and sing with languorous sweetness. It bears the mark of real genius, for it weaves a spell around the reader.
It is the poet's mission to show us the beauty of common things—to mend the broken harp of life with the magic of beauty, and make it play once more, and to this Mr. Newson has made his contribution. We sincerely congratulate him and gratefully acknowledge that he has shown us bits of beauty that our dull eyes had net perceived.
Nellie McLung
Calgary, June 14th, 1926.
From "The Vale of Luxor":
The Workers
I
A rustic bench beneath an apple bough
And blossoms pink and white to flaunt their lace
Above us, while Althea's golden mace
In silk corolla framed, now flicks the brow
As if to keep the drowsy noon awake
And opulently strews her waxen flake;
And yellow banded messengers, o'er sees
Of flowers, content and nectar laden, fleet
Their busy way, on lighting board to meet,
With bodies redolent of bloom and breeze
Of summer; working, panting, palpitate,
The narrow hiveway entrance, ventilate;
While drones and robbers are by some expelled
And some within, their precious burden store
Or preen the pollen, mid the murmur'us roar
From tawny leg, to frame and comb encelled
And feed the Royal Nymphs;—Can it be
Instinct and habit of heredity?
II
Another note is heard, happy and clear.
A quiet hum;—they dart against our face
And tangle in our hair, scouting a place
To swarm; the Royal bride to heaven near
Her nuptial flight has taken; and now emerge
The drones from apathy, and find their urge
To soar the firmament, and seek their mate
Whom strongest wings and bravest eyes will find,
And finding her will die, and dying bind
With one great moment of his envious fate
A countless host of fellows yet unborn,
To life and work and to the sunny morn.
Now soon the lang'rous consort droops to earth—
In garden falls and sits upon a frond
Of fragrant brier, whom, lo! the workers fond,
Espy, and gather round their queen in mirth
And cover neighboring bole, and shrub and tree
From chaos to cohere, around the mother bee,
III
And so fall pendulous, like autumn grapes,
That, mellow, bend the vine, their ripened blue
Painting an arabesque, that holds them true;
The keeper of the hives, the brindled shapes,
Disclosed against their leafy resting-place
His casual eye and calm and placid face,
Perceiving, drapes a square of lawn beneath;
Then straightway shakes them down, honey engorged,
From hymeneal feast,—their temper forged
To numbness, by satiety's relief;
Lo! now to waiting hive the master takes
The queen safe home; the mob to motion wakes
And they become a moving, seething mass;
But, what a sight!—They range themselves in ranks
Like phalanxes of old: their tiny flanks
Surmount the board: in martial order pass,—
Sublimely brave, like legionry of Rome,
To claim their place in corridors of comb.
Featuring cover artwork by Georgina Megans.